Complete JTAG / Boundary Scan Tester in a desktop system for prototyping and production
Integrated system electronics
Exchangeable adaptor for the easy use of probes or real connectors
Controlled by external PC or laptop via USB 2.0 or LAN
Allows the execution of Boundary Scan Tests, In-System Programming of Flash / PLD / MCU, and functional emulation tests (VarioTAP®)
JULIET is a professional JTAG / Boundary Scan Tester suitable for production. It combines the complete system electronics together with the adaptation of the UUT via an exchangeable adaptor in a compact system.
The JULIET testers are based on standard components like SYSTEM CASCON™, ScanBooster™, and SCANFLEX®, hence they are compatible to systems already used in development, and flexibly upgradable. A total of six different JULIET versions cover all possible production applications, from the simple test execution to the complete repair station with graphical failure visualisation, and make the system ideal for fast prototyping and low volume production.
Overview and specifications
of the different JULIET versions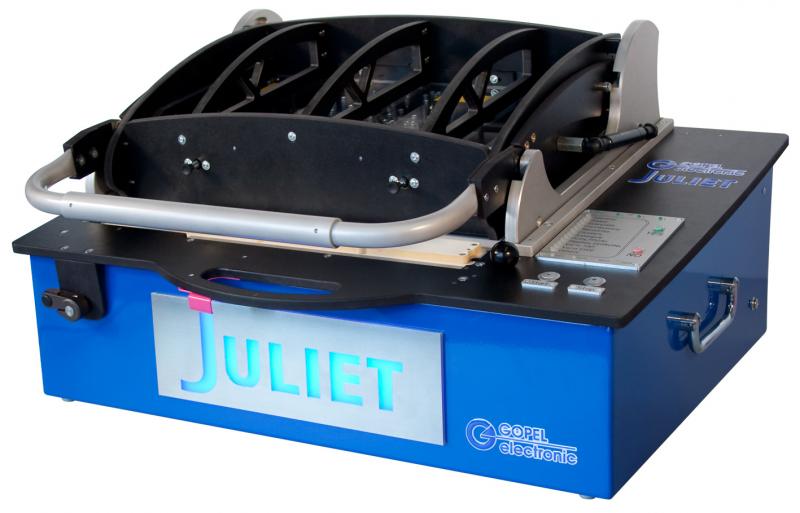 General specifications
Dimensions: 640 x 520 x 340 mm
Weight: approx. 30 kg
System voltage: 100..240 V~ 50..60 Hz
Power: approx. 75 VA max.
Environment: 15°C..35°C
Control and mechanics
PC interface: USB 2.0 / LAN
UUT interface: exchangeable adaptor
Board clamp: manual leverage
Contacts: probes / connectors
Probes (max.): ~300
Effective area: 340 x 230 mm
Integrated control elements
START / STOP button
YES / NO button
Status LED
PASS / FAIL LED
Power ON / OFF button
System options
Barcode reader
Blank adaptor for prototype test
Blank adaptor with downholder